Ah-choo!
gesundheit
Really, you have to love those Mid-winter colds, that take residence for a week or so, and make smelling, or tasting your food, quite a bit difficult....and the biggest bummer, is that Father Winter either is on vacation to Bermuda, or has been taken hostage by one of the three other seasons, as it will be in the Mid to upper 50's this weekend, and feel more like March, than January....Drat....Maybe a little fresh air and sunshine will blast this cold to the moon....

and just for the record, will not be contributing to any ransom demands to return father winter to us....sorry....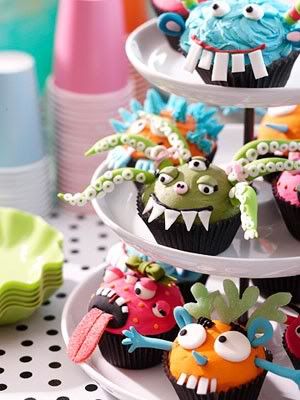 pinterest.com via ediblecrafts.craftsgossip.com


Anyway...I had to just start this post with this Fantastic image I just pinned.....You can't not love Pinterest! These Monster Cupcakes are so flipping cool! I can't stand it! Might have to snag a Monster Themed Party this year for Noah's 4th Birthday!
Besides Pinterest...which is a daily......okay to be honest...hourly stalk.....
Here are the other places I've been this week! MUST go See
Probably my new Most Favorite Family and Lifestyle Photographer Ever! The inspiration just oozes from her blog! Let's just say I Pin a lot!
Simplicity Photography
Another one of my favorite places to go....A hard read, yes, a sometimes tearful read...absolutely...an important read, about a mother trying to navigate this world after the loss of her beautiful son, and the importance of educating and funding research for childhood cancer....without a doubt!
Rockstar Ronan
I hope everyone has an Amazing first weekend of the New Year! I'm going to be stuffing my pockets with tissues...and taking the boys to the Park today....This weather is insane...but you will definitely not hear me complain!
See you all on Monday, with what I'm realizing about parenting two children!