I don't know too many Buckeroos that Get to relive their first Birthday a second time, but if we were going to relive it, we were going big or going home! Since The Air Force called Daddy away for The Bugster's Actual Birthday, there was no better time or place then the Ohio Farm to throw the Rootin-ist Tootin-ist First Birthday Bash This side of the Mississippi....
The following is a instruction guide on how to throw yer-self a Rough and Rowdy Cowboy Worthy Shindig....
First you just need to find the perfect cowpoke invitation, letting everyone know to bring their appetites and spurs....for a ho-down to beat the band.
Our invitation came Via Pony Express from
Tinyprints.
And just so it wouldn't take forever for the mail coach to deliver our RSVP's....guests could reply directly on the website...
we'll I'll be flipped.....ain't that somethin....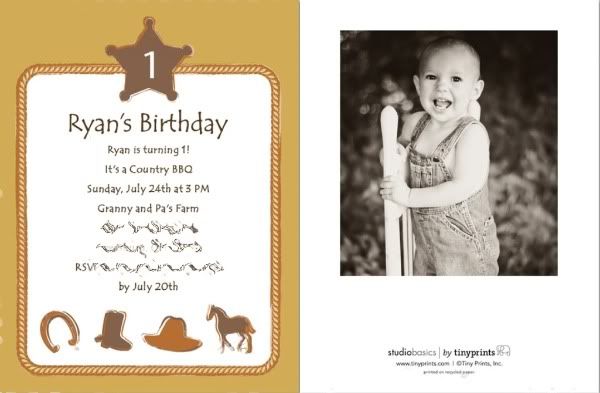 Then you rope yerself a location that can hold all that rowdiness! Nothin worse than spot too small, in case anyone wants to break out into some impromptu square dancin....
Rustle up 25 of your best pals, to fill that big ole space....though I wish we could have sent the stage coach out to bring in the rest of our favorite people....it just takes too darn long!
Aren't they a handsome crowd?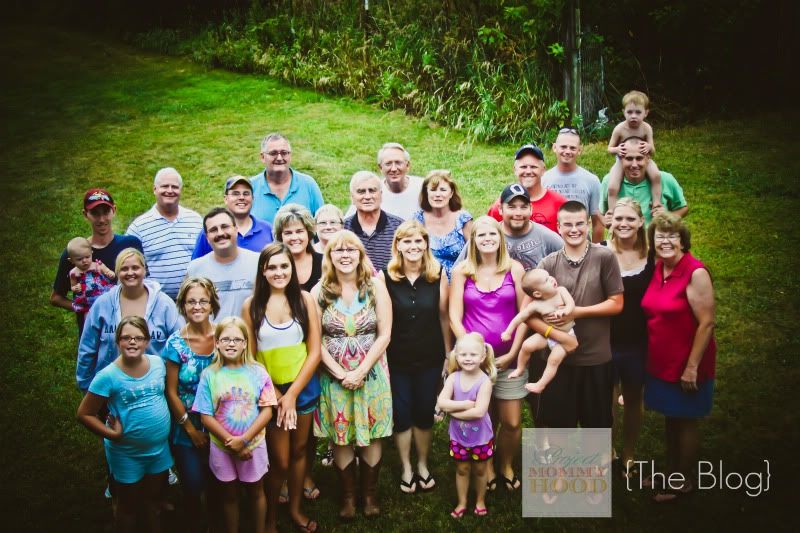 Then you have to make sure your dressed the part, a pair of bibs, barefeet and a sheriff's badge are all you need to complete the perfect cowpoke ensemble...
and a gigantic lollipop for the perfect accessory and pop of color
Besides having a wagon-load of tasty vittles, .....
and for the record, I would have taken pictures of all the amazing fare of hamburgers and hotdogs, homemade lemonade, more fruit than a fruit stand......and the best coleslaw in the entire world....
but I was stuffing my face......
You also need the peace de resistance....the Biggest, Baddest, Cowboy Cake anyone has ever seen! Ryan's Amazing Cake was created by
Creme de la Creme Cakery
.....
I take my hat off to her!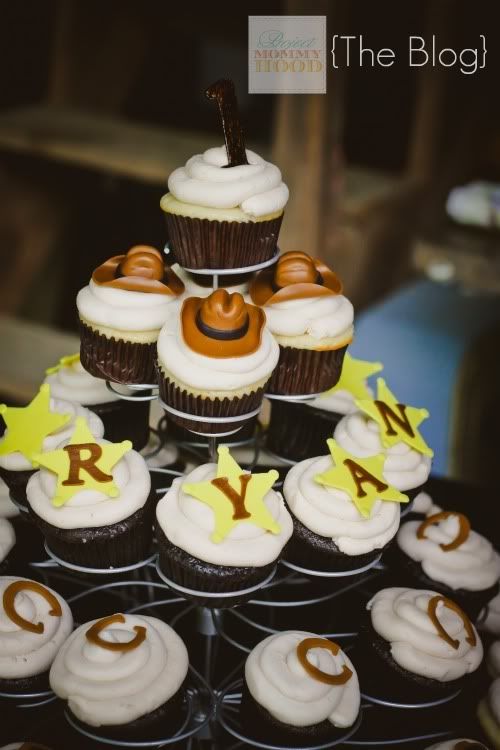 The Cake Destruction of course is the highlight of any Cowboy First Birthday Party.....The messier, the better, and since you are hosting it in a Cowboy worthy local....it won't matter how much cake gets on the floor!
After the culmination of the Cake Smashing.....with full bellies, and full hearts, it's time to have some good all american, ole-fashioned fun! A Good Natured Corn Hole Competition....including some razzing on both sides of the line......more sugar.......water.......
and company......
that's all you need.....
You'll know you've succeeded in your quest to creating a Cowboy worthy First Birthday, if the cowpoke of honor ends his day plum tuckered out.....
I think it was an all out success
and no one squatted on their spurs!