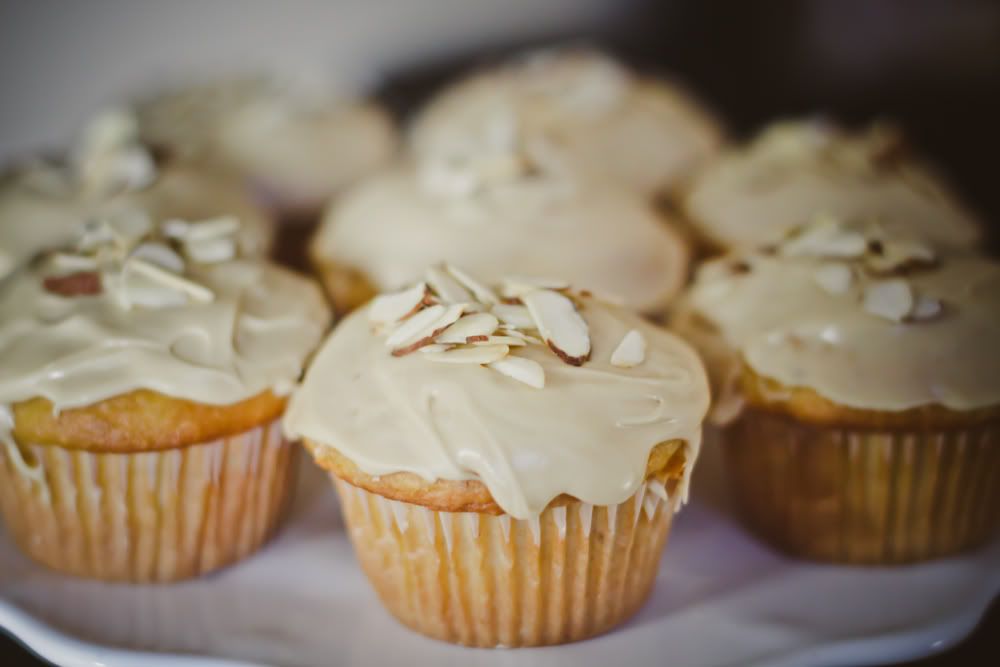 If you had to ask me what I think the absolute Perfect Dessert is...
I would have to say the Cupcake...I'm sure I will be getting many a culinary expert rolling their eyes at me, but really why can't it be?
Cupcakes come in the perfect individual sizes, as to NOT over indulge, unless you swipe say 2 or 3...
Cupcakes can take on and transform into just about any flavor combination you can possibly think up....PB and J, Tiramisu, Key Lime......
The Best Thing about Cupcakes....and what I think makes them so perfect....is that cupcakes can transcend generations.....Now you can find some very Grown up Cup Cakes, that even the stodgiest of culinary palates would approve of!
Like this Little Bite of Perfection....Toasted Almond topped with Sweet and Velvety Caramel Frosting, and Topped with just the right amount of crunch with the Almond Garnish....it is so not your Preschooler's Cupcake for sure, though mine gave me a sticky 2 thumbs up!
This recipe comes courtesy of Betty Crocker, because Betty knows her cupcakes!
Oh, and a heads up! I will be giving away one of the special ingredients included in this recipe Tomorrow! so Stay Tuned!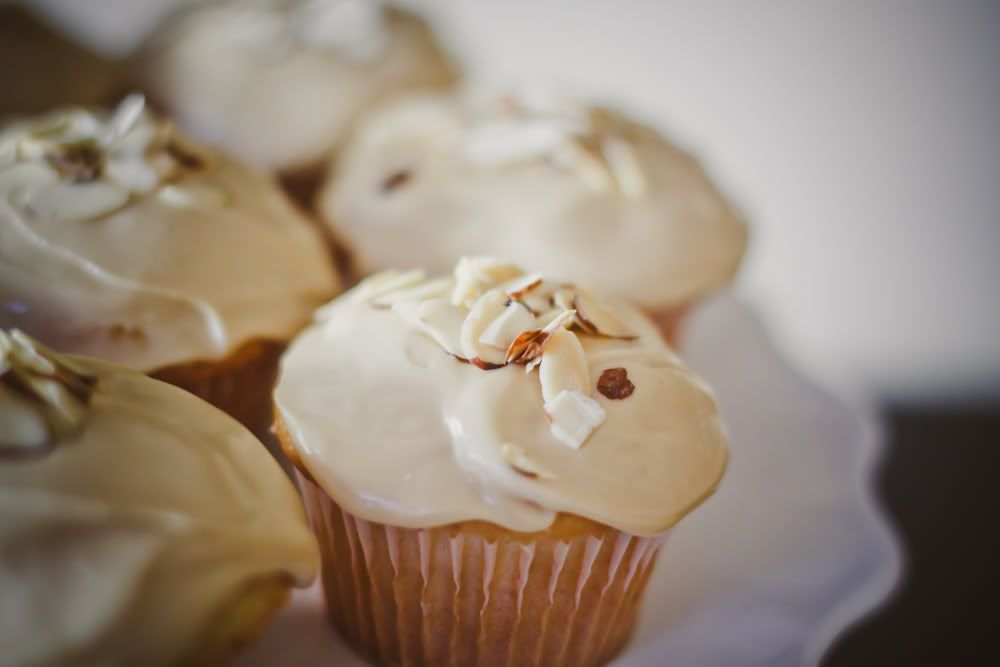 Toasted Almond Cupcakes with Caramel Frosting
1 1/2 cups sliced almonds
1 box white cake mix
1 1/4 cups water
1/2 cup applesauce
3 eggs
1 teaspoon almond extract
Caramel Frosting
1/2 cup butter*
1 cup packed brown sugar
1/4 cup milk
2 cups powdered sugar



1. Heat oven to 350°F (325°F for dark or nonstick pans). Place paper baking cup in each of 24 regular-size muffin cups. In shallow pan, bake almonds 6 to 10 minutes, stirring occasionally, until golden brown. Cool 15 minutes.

Reserve 1 cup almonds for garnish.



2. In food processor, grind remaining almonds until finely ground.

In large bowl, beat cake mix, water, oil, eggs and almond extract with electric mixer on low speed 30 seconds. Beat on medium speed 2 minutes, scraping bowl occasionally. (Batter will be lumpy.) Fold in ground almonds. Divide batter evenly among muffin cups.





3. Bake 15 to 20 minutes or until toothpick inserted in center comes out clean. Cool 10 minutes. Remove from pan to cooling rack. Cool completely, about 30 minutes.





4

In 2-quart saucepan, melt butter over medium heat. Stir in brown sugar. Heat to boiling, stirring constantly. Reduce heat to low; boil and stir 2 minutes. Stir in milk. Heat to boiling. Remove from heat. Cool to lukewarm, about 30 minutes.





5. Gradually stir powdered sugar into brown sugar mixture. Place saucepan of frosting in bowl of cold water. Beat with spoon until smooth and spreadable. If frosting becomes too stiff, stir in additional milk, 1 teaspoon at a time. Frost a few cupcakes at a time with 1 tablespoon frosting each; sprinkle reserved almonds lightly onto frosting. Store loosely covered at room temperature.
* I used Melt Buttery Spread in place of regular Butter in this recipe. Melt is an organic Omega-3 rich gluten free butter alternative.