I count myself as being one lucky duck.....
My wonderful husband humors me on so many things, like spending an afternoon helping me choose new throw pillows for our bedroom, or gritting through the Real Housewives of Atlanta Marathon, on his Saturday Afternoon, even though I know he would rather be doing something more productive and manly....like golfing.....or fishing......
He really is such a guy, and I try really hard to reciprocate his manly sacrifices, by in turn watching a Dirty Jobs Marathon, or spending an afternoon at Lowes checking out the newest and greatest in Power Tools....
Our Yearly Family Portraits, usually always begins with again, him humoring me....by seeming completely interested in the coordinating, but not "matchy matchy" wardrobe choices I've chosen
He does an amazing job, of being warm and friendly with the Photographer, and smiling his brightest smile for the camera, though in between takes, I see his gaze wander longingly to the golf course that happens to be just across the way.....
He does a wonderful job of helping me wrangle two very wiggly, toddlers, who have the attention span of a gnat, and all without a single complaint, or even the hint of a sigh
By the middle of our shoot, I begin to notice.......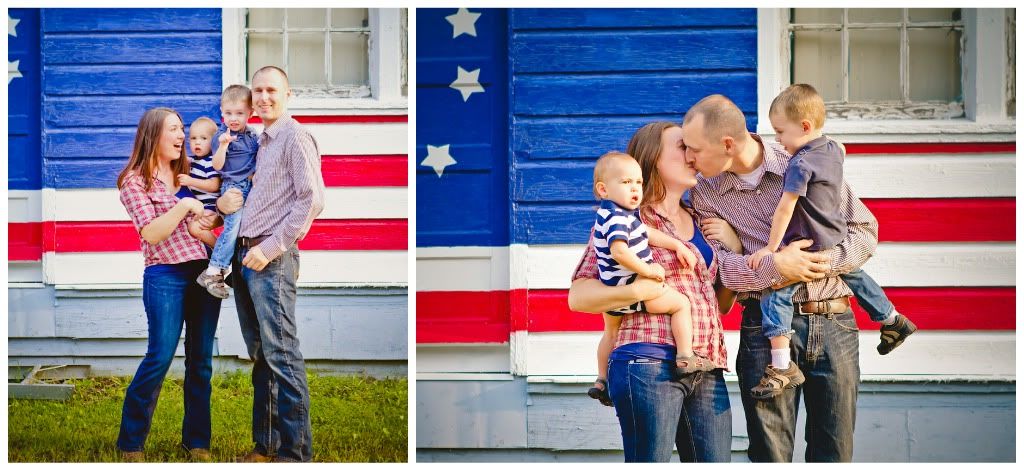 He's enjoying himself.....with the only longing gazes being directed towards his family....thoughts of long drives and tee boxes long forgotten...
or just forgotten....
I love my husband.....for humoring me, on my Girly T.V. marathons, shopping trips, and endless chatter about kids, and friends, and what I saw in the latest issue of Parents Magazine....
But I love him most, because after all is said and done, he gets just as excited, or even more so, about our family portraits....than I do.
He understands how quickly time goes by, how right before our eyes, our boys are growing and changing, and how this moment, right now that we are in, will be gone in a blink of an eye...
He understands how important these memories are for me, with the last 6 years having all our wonderful and joyous occasions being interwoven with my fight to win over Cancer....
He understands, because his choice to serve our country, keeps him away from his family for long stretches of time, and having these beautiful images of us together, and happy, helps keep us close even when he's in a distant and unfriendly place....
I can't thank him enough...for humoring me!
I have to thank
Erica Mahan Photography
, for taking such Amazing Photographs, that I will cherish for a lifetime....If you are in the Philadelphia or South Jersey Area, I highly recommend her!
Time does go by so fast, and we never know what tomorrow may hold for us....or what changes God has in store....but I know I will have these amazing images to hold close...and continue to bring life to the memories I will hold in my heart....


I'm going to end with this.....
"If you have not had family pictures taken within the past 3 years, promise me right now that tomorrow morning, you will find someone to do it. I don't care if it's a neighbor, I don't care if it's a portrait studio, I don't care if it's a tripod and a remote. Just do it. We have no guarantees in life, but at least we can have the photos to prove that we were here, we were together, and we were happy."
Pinkletoes Photography