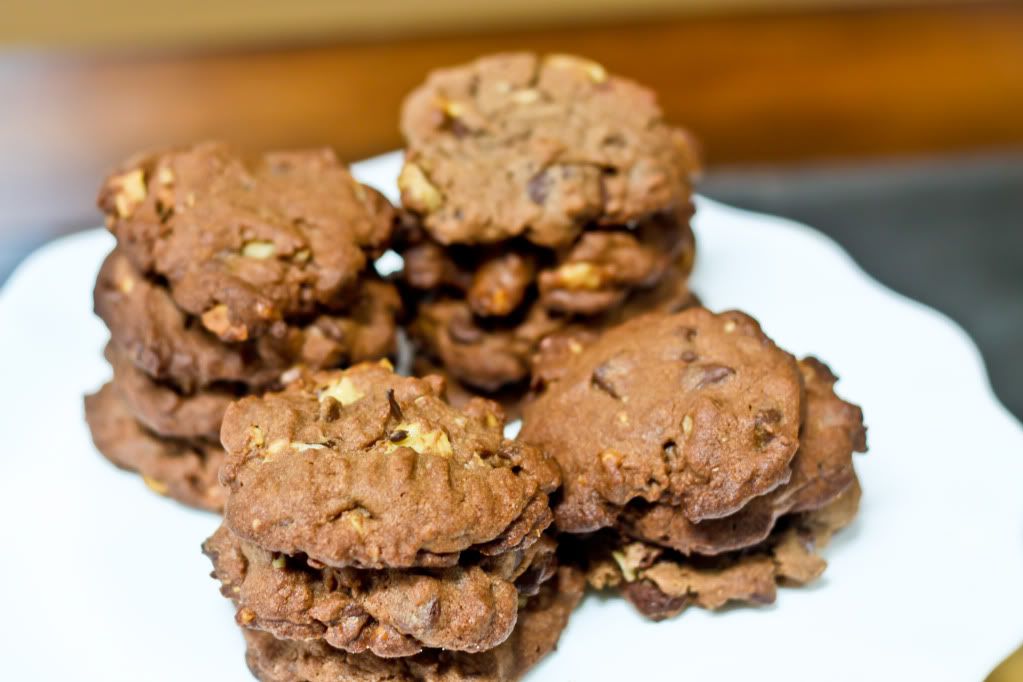 Chocolate......That amazing word that conjurs many a happy memory, and makes me yearn for nothing more than the latest episode of the "Real Housewives Series" and something warm, gooey and rich. Chocolate has helped me through everything from late night cram sessions in collegs ( thanks to a VERY large stash of Reese's Cups) to the latest escapade pulled off by Super Noah and his side kick Wonder Ryan....usually a Big Bowl of Ben and Jerry's Half Baked....or a walk by handful of chocolate chips from the pantry.
The delectable goodness that is chocolate, has at times ruled my life ....usually during that time of the month....and also is a major accessory to the crime of me gaining a whopping 75 lbs with each pregnancy. It is friend as well as foe.....I am whether good or bad, exposing all who are around me to my self-described addiction....
I'm finishing off my 5th one of these absolutely AHMAZZING Cookies as I write this post. Now granted I don't ever really need a reason to make chocolate cookies....the fact that today is one day closer to the weekend works for me....but this particular batch of chocolatey heaven is made especially for Noah's Teachers and Bus Drivers as a BIG thank you f0r making his transition to preschool sooo easy. We doubled the recipe so that there were plenty for not only our gift recipients, but also plenty for us to enjoy.
Even though the fact that these cookies contain three versions of my favorite food group (and YES chocolate is a food group), Noah being able to get his wee hand dirty, and have an amazing time playing "baker" with mommy....and putting his own personal stamp on his gift to his teachers, meant everything....
This is a super easy recipe, and I promise you will be licking not only the bowl, but the spoon, the cookie sheet....and maybe even the countertop if there are any leftover blobs of dough.....
To Die For Tripe Chocolate Cookies
Ingredients
1/3 c. unsweetened Cocoa Powder
1 1/2 c. semi sweet chocolate morsels
1/2 c. milk chocolate pieces
Directions
Preheat oven to 350 degrees. With Stand Mixer or in large mixing bowl, beat butter and shortening for 30 seconds, until smooth. Add granulated sugar and brown sugar, baking soda and salt. Beat to combine. You may need to scrape the sides of the bowls periodically.
Next Beat in the Eggs and vanilla, until combined. Then beat in cocoa powder and the flour, 1/2 cup at a time, until it is hard to mix. The last 1/2 cup you may need to add and combine by hand. Stir in Chocolate morsels, walnuts and chocolate pieces until well combined.
Measure out a 1/4 c. size ball of dough and drop onto ungreased cookie sheet. Press each cookie to create a 1/4 in. round. (These cookies do not flatten on their own) Bake for 12-14 minutes , then cool 2 minutes on cookie sheet before transferring to wire rack to finish cooling.
All you need to finish off these amazing morsels of goodness is a BIG tall and preferably Ice Cold Glass of Milk!