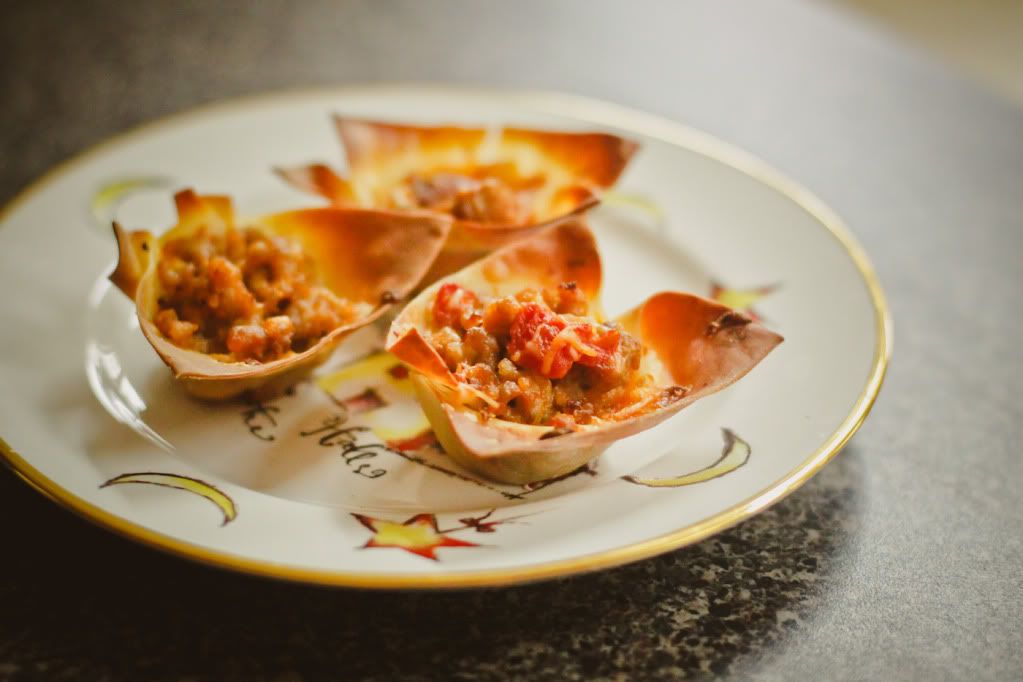 What do you get when mix Italian, Tex-Mex and Asian Cuisine.....and put them together in one small, delectable morsel?
Only probably one of the most amazing appetizers to have tickled my taste buds in a longggg time!
I'm so in game mode, with getting ready for the onslaught of Holiday Shindigs......and my 2nd Annual Dirty Santa Party is going to be my hit of the season......so I'm already firing up the kitchen, to make sure the food is as amazing as the Holiday Festivities....
and taking a cue from Brad Paisley....who so eloquently says
"It's like we're all livin' in a big ol' cup
Just Fire up the blender, mix it all up"
I only had time to take two Photos of this amazing Dish....as My mouth just couldn't wait to devour every last one......
Sausage Wontons
1 lb Italian Sausage (casings removed)
3/4 c. Salsa (I like mine Medium)
1/2 c. shredded Monterrey Jack Cheese
1 c. Shredded Cheddar Cheese
2 oz Diced green chilies
olive oil
24 Wonton Skins
Sour Cream
1. In Large Skillet, brown sausage over medium heat, breaking up the large pieces, so that it is crumbly. When sausage is done, remove with slotted spoon and drain remaining grease. Discard grease from skillet, then return the sausage.
2. Add salsa, cheese, and green chilies to the sausage, and simmer until the mixture thickens, about 5 minutes. Turn off heat, and let cool to room temperature
3. Preheat oven to 350 degrees, Brush 24 mini muffin cups with olive oil. Press 1 wonton wrapper into each muffin cup. Fill each prepared cup with a full Tablespoon of Sausage mixture.
4. Bake Wontons for 1o minutes at 350 degrees, until edges of wonton wrapper begin to brown. Then Transfer the Wontons from the muffin tin, to a baking sheet. Return wontons to oven, and bake an additional 8 minutes.
Serve with a dollop of Sour cream!